After countless rumors, the fabled Epic Mickey has finally been confirmed.
Hit the jump to find out more about Mickey's mysterious new adventure.
Epic Mickey is a tale of revenge, about forgotten existence, but most importantly a tale of Mickey Mouse unlike anything you've ever experienced.
Epic Mickey focuses on the story of the "forgotten" Disney creations: Rides, Cartoons and above all, The Forgotten Characters (The forgotten creations will be referred to as "Characters" for future reference). These characters who were once as famous as Mickey himself were cast into a dark void inhabited by broken machines and bitter personalities, and the leader of these forgotten characters is no other than Walt Disney's first creation, Older than the great Mickey Mouse himself...
Oswald The Lucky Rabbit
Oswald was the first to be cast into the dark void after Mickey Mouse replaced him. For years Oswald's anger and jealousy of the newcomer(Mickey) have been taking hold of him. Now, finally, Oswald is out for revenge. He starts by unleashing one of the forgotten characters...
The Phantom Blot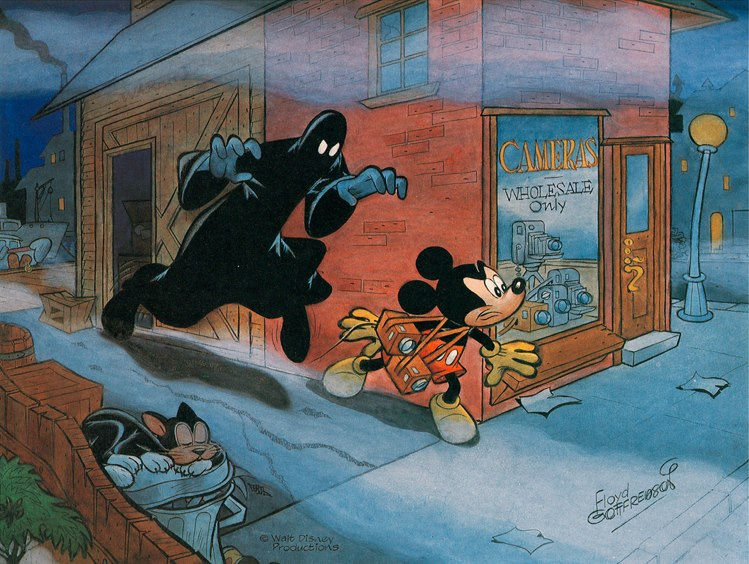 To wipe out Mickey and the Disney Universe the blot pollutes Mickey's world with black ink that makes colors run and fade. It's up to Mickey to repaint his world and restore peace and happiness.
As you can see Epic Mickey's story is a noticeably darker look ant the Disney Universe, Literally, The Dark Void(unofficial name) is a post-apocalyptic like steampunk environment as seen int the concept picture below.
Now you might ask yourself, Why is such a dark game only being released on the Wii?
The answer is pretty straightforward, Epic Mickey's gameplay is strikingly similar to Okami, so in other words the Wii was chosen for gameplay purposes, not because of the Wii being family oriented. Epic Mickey's gameplay consists of Repainting the world with the use of paintbrushes, thinner, erasers, pencils and other artistic tools as portrayed in the only official artwork released so far(first picture in the article).
The corrosive ink that pollutes the world is obviously one of Mickey's enemies, meaning that Mickey's abilities will be based on art. Mickey can draw and erase his way trough levels, fixing broken bridges by using the right color, by passing trough a wall after applying thinner or even clearing rubble by erasing it. The game is about thinking and artwork, with careful studying of the environment needed to sole the puzzles.
Epic Mickey's universe has a darker more Post-Apocalyptic feel to it.
And if you're wondering why Mickey has his back turned in the official artwork is because Mickey is getting his first major redesign in years so that's why no one has seen his face yet. Mickey's new look is far more retro than you've seen in years.
No further details have been released but the game is tentatively scheduled for a Fall 2010 released date.
Repaint yourself into our hearts Mickey.
Here are some more concept artwork for Epic Mickey to feed your excitement: