Soul Calibur the weapon based fighter finally hits the PSP, so how does the game compare to it's console big brother? Read on to find out
Soul Calibur: Broken Destiny is basically a portable version of last year's stellar Soul Calibur 4, with some notable exeptions. Broken Destiny's main Campaign mode is the laughably  shallow "The Gauntlet" mode, which feels more like an irritatingly long tutorial mode than a traditional story mode, for example, one mission's objective is to perfect block 3 attacks and then make a counter hit in less than 5 seconds, yes i said 5 seconds and trust me that's all it takes to annoy you.
Repeat the same mission over and over again with a higher difficulty curve that can be frustrating to the point where you might want to throw your PSP against the wall, or in the sad case of PSPGo owners crush it and break it in half.
Gauntlet mode aside, Broken destiny features a Quick Play mode were you must fight against randomly generated characters (sorry you can't put Kratos and Nightmare in a fight to see who wins).
Some of these random charaters can be really fun to fight, while others are just unbalanced and cheap. And speaking about Kratos, yes he is still the brutal, blood thirsty spartan that gamers have come to love, but he is a tad too strong, but extreamely fun to use.
The other single player mode is called "Trials" which consists of 3 options:
The first one is "Attack" which you may call "Easy Mode". The objective is to chain attacks to form combos. The more attacks you chain, the higher your score. I found this to be a little to easy since your oponents focus more on blocking than actually fighting.
The second one "Defense" is a little harder since you earn points for fighting defensively, but that can be really hard since your opponent will keep attacking you until you lose. Oh and they love to use "Unblockable Attaks" which by the way are...  you guessed it unblockable.
The last one is called "Endless Trials" which is basically the first 2 modes combined with a Survival mode. Die hard fans will get a real kick out of this one. This is the really hard one mostly because the enemy AI took steroids, however, this is the best of ALL the single player modes simply because it gives you the chance to really experience the game to the fullest.
There's also a training mode but that's just well Training, nothing more, nothing less.
That's about it for the single player modes which is a huge dissapointment because, well, that's all there is, no "real Quick play with character selection"or traditional arcade mode.
However, the real treat of the game is the robust "Character Customization" mode. This is the feature that gamers will spend most time in. Creating custom characters is as easy as it gets. Players will be able to create just about anything they can imagine, from their favorite characters to original creations.
Lucy from the anime Elfen Lied in character creation(Note that this was still a work in progress when i took the picture)
The only downside is that you can't change character build, meaning that you can't  make a skinny guy or a fat girl, other than that it's a blast to use. Broken Destiny also features a multiplayer mode but it's Adhoc only which is sad considering how many people wanted online play. I have no idea as to why NamcoBandai didn't include online play, but i will say that the Adhoc multiplayer is stable and doesn't lag, which is always a plus.
[Gameplay - 7/10]
The Gauntlet also serves as the "story mode" but the plot is so basic and so incoherent that you might think that a brainless monkey wrote it. Let me explain the finer points of the story. Your character starts off in a forest, fights an oversized lizard, enters a tournament, meets a girl and sets off on a adventure, everything from there is just too bizzare and random to pay any attention to. The dialogue is equally pathetic with lines such as "I vow to protect my master's beard with my life". Seriously who wrote this?.
[Story - 3/10]
What the game lacks in single player mode it makes up for in terms of playability simply because Broken Destiny has one of the best fighing engines ever developed. Combat is a blast, controls are responsive while easy to learn but hard to master.
Every character has his or her unique fighint style which will require players to learn each character's strenghts and weaknesses, i highly reccomend "Training" mode for players looking to master the game. As for Kratos, he is insanely fun to play as but can be incredibly cheap(once you're on the ground its over). Soul Calibur IV's Critical Finish attacks also makes a triumphant return and are incredibly satisfying to pull off.
[Playability - 8/10]
Vissualy the game is simply beautiful, Broken Destiny's graphics even surpasses those of Soul Calibur 3 for the PS2 and puts God Of War: Chains Of Olympus to shame which is no small feat. Each character looks beautiful to the last detail, and every frame of movement is a treat to the eyes. Every stage was created with the same care as the characters and are equally pleasing to watch.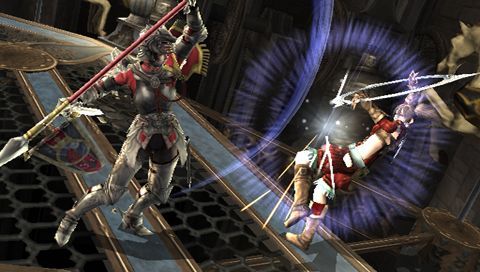 Can't argue with those graphics
The game's soundtrack is pretty decent, and the voice work is ok for the most part except for the ring announcer who can be really annoying(but that's nothing the Start button can't fix) , it should be noted that when you create a fighter in "Character Customization" you get to choose a voice for your character and are allowed to alter the pitch of your character's voice to make him/her sound unique, which was a nice touch. There is an option to change the game's audio to japanese which is something nice for players who prefer the game's original language.
[Graphics and Audio - 9/10]
The game features plenty of unlockables, but most of them can only be won by playing the insanely tedious "Gauntlet", which will turn most players off.
[Replay Value - 6/10]
Tira you still suck
For all it's shortcommings, lack of single player modes, pathetic excuse for a story mode and no online multiplayer Soul Calibur: Broken Destiny ends up being a fun but disappointing fighter. Die-hard fans of the series may want to give it a try, but more casual fans should pass on this one and stick with the superior(and older) Tekken: Dark Ressurection.
Soul Calibur Broken Destiny
[Overall - 6.5/10]
There are no comments posted here yet